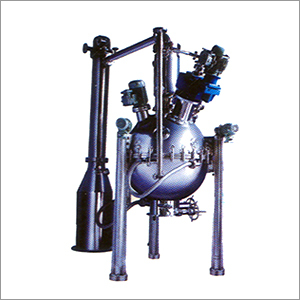 Spherical Dryer
Product Description
Spherical Dryer -

Attaining maximum level of clients' satisfaction, we have positioned ourselves as a leading manufacturer and supplier of Spherical Dryer. These dryers are widely used in chemical and pharmaceutical industries for solvent recovery. We manufacture Spherical Dryer by making use of premium quality raw materials and innovative technologies in compliance with the industrial quality norms. Before supplying in market, each and every piece of dryer is tested on its design, performance and finish.
Salient feature -
This product is having multi-purpose processes

Works smoothly as dry or wet running seals are built in

Its Automated bayonet flange makes it more productive

This Spherical Dryer has automated vessel hinge

This Spherical Dryer is Highly torque capable

Used Metal-to-metal sealing discharge valve in this Spherical Dryer

This is Dust filter and fully jacketed vessel

Heated agitator and Close agitator- to–side wall tolerance

This Spherical Dryer is able to consume low electricity

Less solid loss and gives Optimum performance

Highly efficient (Short drying times) and inspection process is easy

It can be cleaned fastly and easily (CIP/WIP)

Spherical Dryer is able to perform drying, mixing and granulating

Due to its total product discharge capability this spherical dryer maximizes the product yield

This Spherical Dryer is capable to face dust hazard

This product has vertical chopper (Lump breaker) therefore able to give reproducible drying results

This Spherical Dryer follows ASME code rated vessels
Why Prefer this Spherical Dryer -
In this Spherical Dryer,additional peripheral equipment can be added for better productivity

This product have many mounting configurations

Having charging and discharging, sampling and product transfer capabilities

we have experienced designers and we believe in technological advancements

This product have longer operation life and easy to make clean
Area Of Application -
We are serving to the following sectors -
Pharmaceutical Industry

Intermediate Compounds and Fine Chemicals

Organic Chemicals and Agro Chemicals

Pesticides, Insecticides and Dyes

Food Products



Trade Information
Packing in corrugated box, shrink wrapping and wooden crates available.