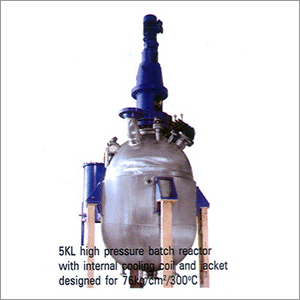 High Pressure Batch Reactor
Product Description
Banking on our three decades of industrial experience, we are engaged in manufacturing and exporting a foremost range of High Pressure Batch Reactor. These reactors are used in various industries including chemical, pharmaceutical and food processing for operations like solids dissolution, product mixing, chemical reactions, batch distillation and polymerization. Our High Pressure Batch Reactor is made by a team of skilled professionals using SS304 material, following the norms and guidelines laid down by the industry. In addition, our reactors are available in various sizes and capacities to pick from.
Key Features :
5KL high pressure batch reactor with internal cooling coil.
Jacket designed for 76 kg/cm2/3000C
Agitators offering high heat transfer rates.
Optimum utilisation of gas.
Offered in a variety of construction in bare/cladded material.
Homogenous suspension of solids/catalysts.
Higher catalyst life due to low shear.
Higher productivity due to higher gas interfacial area.
Fleliable containment of gas and the product of the reaction.
High flooding limits.
Custom designed for each process.
Available with ASME U & U2 certification or CE as per PED.
Why Prefer this Product :

Proper insulation
Leak proof structure
Corrosion resistance
More Details -
We and designed and manufactured a 5 KL Capacity SS316, Hydrogenator with a specially designed Gas Recirculation Agitator with dual internal cooling coil and SS304 Jacket on the vessel. The vessel was designed for a pressure of 76 Kg/cm2g and 300 C temperature. Coupled with high pressure in the Vessel along with Agitator rotating at very high speeds (approx.300 rpm), setting up mechanical sealing arrangement was the biggest challenge in the design and the manufacturing of the Vessel. In consultation with a seal manufacturer in India, we designed a unique in -house double mechanical seal with a forced lubrication system to withstand high pressure and temperature.
Trade Information
Packing in corrugated box, shrink wrapping and wooden crates available.