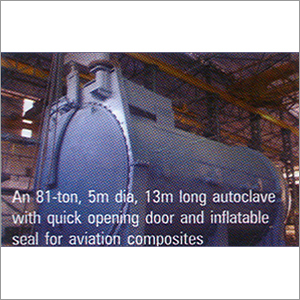 Product Description
Process Reaction Vessels

Being an ISO 9001:2008 certified organization, our forte is to manufacture and export an exclusive array of Process Reaction Vessels. Offered in different capacities form 50 liters to 1,00,000 liters, these vessels are broadly used for storing gases, chemicals and acids under high temperature and pressure in various industries including Pharma, chemical, oil & refineries and gas. Made using optimum grade stainless steel and silicon, our Process Reaction Vessels are regarded for their attributes like leak proof nature, high temperature resistance and low maintenance. We offer these vessels at a reasonable price.
Specifications -
This Process Reaction Vessels are capable to utilize optimum level of Gases.
Highly Productive due to higher mass transfer rates
The structure of Process Reaction Vessels are very simple shape & scientifically
We design Process Reaction Vessels as per process parameters like clean-ability and product impurity profile
We use high quality raw materials as well as cutting age technology in order to manufacture Process Reaction Vessels
We follow International quality standards in order to meet quality standards
These products are maximum performer, easy maintenance and robust quality therefore more demand able in market
The finishing of this product is nice and durable
Its motor is AC and that have constant rotating speed
These products can be customized as per client's requirements
Area of Application -
Pharmaceuticals Industry
Petrochemical Industry
Chemical Industry
Oil Refineries
Technical Parameters

Capacity Range:

214m3

Diameter:

5000 mm

Length:

13000 mm

MOC:

SA516Gr.70

Design Pressure:

kg/cm2 8/F.V.

Hydrotest Pressure:

15 Kg/cm2

Design Temperature:

160oC

Empty Weight:

72 Tons

Pressure Range:

10 to 150 kg/cm/g

Temp. Range:

-1000C to 3500C
Technical Specifications

Design:

ASME SECTION VIII DIV 1

MOC:

CS TO IS 2062 / SA516 GR B

Herder Pipe:

To suit client requirement

Many way:

Standard bolted manway with davit arm for higher sizes 9.5 Kg/cm2 max.

Other Options:

Custom made mounting supports,Peep holes, Pressure Gauges Can be supplied on request

Dish arrangement:

Welded dish end arrangement is standard. Flanged dish can be supplied for smaller sizes on customer request.

NDT Tests:

LPT test on all welds, Ultrasonic tests on Material, Radio graphic test as per relevant standards and to clients requirement.

Painting:

Epoxy paint with suitable primer Upto 120 microns is standard.
SUPPLY LIST FOR MAXIMUM CAPACITY VESSELS / REACTORS
Client
Item Description
Service
Metallurgy & Size
Empty Weight
Shell
Top DishEnd
Bottom DishEnd
Tons
M/s. Jubail Chemical
Industries Company
Kingdom of Saudi
Arabia
101,000 Ltrs Working Capacity SA516Gr.70 Plant Air Reciever with
Skirt Support Design Pressure = 28.6 kg/cm2g , Design Temp. = 70
OC , Corrosion Allwance = 3 mm
Nitogen
Storage
MOC
ID mm
Ht. WL to WL
Thk. Mm
Thk. Mm
Thk. Mm
60
SA516Gr.70
3400
9900
45
50
50
143000 Ltrs Working Capacity BQ Plant Air Reciever with Skirt
Support Design Pressure = 9.8 kg/cm2g , Design Temp. = 70 OC ,
Corrosion Allwance = 3 mm
Instrument
Air
SA516Gr.70
3800
11300
20
20
20
35
46000 Ltrs Working Capacity BQ Plant Air Reciever With Skirt
Support Design Pressure = 9.8 kg/cm2g , Design Temp. = 70 OC ,
Corrosion Allwance = 3 mm
Plant Air
SA516Gr.70
2600
7700
16
18
18
15
14000 Ltrs Working Capacity SA240Gr.316L Acetic Acid Seperator
Design Pressure = 11 kg/cm2g , Design Temp. = 150 OC , Corrosion
Allwance = 3 mm
Acetic Acid
Sepearator
SA240Gr.316L
1700
5540
14
22
14
17
M/s. National
Aerospace
Laboratories.
214,000 Ltrs Capacity SA516Gr.70 Atoclave with Saddle Supports
with Body Flange. Design Pressure = 7.85 Kg/cm2g,Design Temp. =
260 OC . Corrosion Allwance = 3.2 mm
Nitogen Storage
SA516Gr.70
4900
10000
20
25
25
90
M/s. Oman
Formaldehyde
Chemical Co.
25000 Ltrs Working Capacity BQ Nitrogen Reciever ( Horizontal
Reciever ) Design Pressure = 10 kg/cm2g , Design Temp. = 70 OC ,
Corrosion Allwance = 1 mm
Instrument
Air
SA516Gr.70
1900
8920
12
12
12
7.5