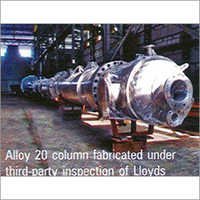 Heat Exchangers
Product Description
Heat Exchangers

Capitalizing on our talented workforce and modern machining facility, we are manufacturing and exporting a reliable range of Heat Exchangers. Our exchangers are manufactured using superlative quality materials as per the industrial norms and guidelines. Our Heat Exchangers are widely demanded in chemical and pharmaceutical industries due to their salient features like sturdy construction, corrosion resistance and outstanding functionality. We are capable of customizing these exchangers as per the needs of the clients.
Key Features:
Rugged design
Low maintenance
Advance service live
We also provides a range of special construction heat exchangers and agitators for a variety of applications.
Custom-designed Agitators
Pressure Vessels/Tall Vertical Columns
Heat Exchangers made of special Alloys
Silicon Carbide Exchangers.
LIST OF MAJOR CUSTOMERS FOR HEAT EXCHANGERS
Client
Service
Metallurgy &Thickness in mm
Shell
Diam.
(mm)
Tubesheet
Thickness
(mm)
Shell
Tube
Tube sheet
Channel
M/s. Oil &
Natural Gas
Corporation
Limited.
528 m2 SA537Cl.1 Horizontal
Feed Gas Chiller
SA537Cl.1
SA334Gr.1
SA350 Gr.LF2
SA537Cl.1
1490
155
Thk -20mm
Thk -32mm
450 m2 SA537Cl.1 Horizontal
Light End Fractionator
Condenser
SA537Cl.1
SA179 (Smls)
SA350 Gr.LF3
SA537Cl.1
1640
150
Thk -20mm
Thk -25mm
708 m2 SA515Gr.70
Horizontal LPG Column
Condenser
SA537Cl.1
SA179 (Smls)
SA266CL.2
SA515Gr.70
1224
75
Thk -20mm
Thk -12mm
141.4 m2 SA515Gr.70
Horizontal Residue Gas
Compressor after Cooler
SA537Cl.1
SA179 (Smls)
SA266CL.2
SA515Gr.70
670
90
Thk -20mm
Thk -12mm
277 m2 SA515Gr.70
Horizontal Regeneration Gas
Cooler
SA537Cl.1
SA179 (Smls)
SA266CL.2
SA515Gr.70
894
130
Thk -20mm
Thk -12mm
1132 m2 SA515Gr.70
Horizontal Propane
Refrigerant Condenser
SA537Cl.1
SA179 (Smls)
SA266CL.2
SA515Gr.70
1336
72
Thk -20mm
Thk -12mm
M/s.Industrial
Development &
Promotion
Co.Ltd.
33.8 m2 Oil Vent Condenser
SA516Gr.60
SA179 (Smls)
SA516Gr.60
SA516Gr.60
748
40
Thk - 10 mm
Thk - 10 mm
M/s. GEA
Process
Engineering
(India) Limited.
SA516Gr.60 / SS304
Horizontal BEM Type Heat
Exchanger with Saddle
Support , etc (31.156 m2 )
SA516Gr.60
SA213TP304
SA213TP304
SA240Gr304
500
50
Thk -10mm
Thk -6mm
SA516Gr.60 / SS304
Horizontal BEM Type Heat
Exchanger with Saddle
Support , etc. ( 186.75 m2 )
SA516Gr.60
SA213TP304
SA213TP304
SA240Gr304
860
70
Thk -12mm
Thk -8mm
SS304 Nitogen Heater (
Heated by Hexane Vapour ) (
32.546 m2 x 3 )m2
SA240Gr.304
SA213TP304
SA213TP304
SA240Gr304
1900 W x
2000 L
30
Thk -10mm
Thk -10mm
SS304 Nitogen Heater (
Heated by Low Low Pressure
Steam ) ( 45.44 m2 )
SA240Gr.304
SA213TP304
SA213TP304
SA240Gr304
1420
75
Thk -10mm
Thk -10mm
M/s.Oman
Formaldehyde
Chemical Co.
33 m2 Oil Vent Condenser
SA516Gr.60
SA179 (Smls)
SA516Gr.60
SA516Gr.60
748
40
Thk - 10 mm
Thk - 10 mm
43 m2 Excess Water
Evaporator
SA240Gr.316
SA213TP316
(SMLS)
SA240Gr.316
SA516Gr.60
1050
60
Thk - 8 mm
Thk - 10 mm